chamavioleta, 21.07.19
Benjamin Fulford Interview.
By Prepare for change

.
Posted July 20, 2019 by Richard Small.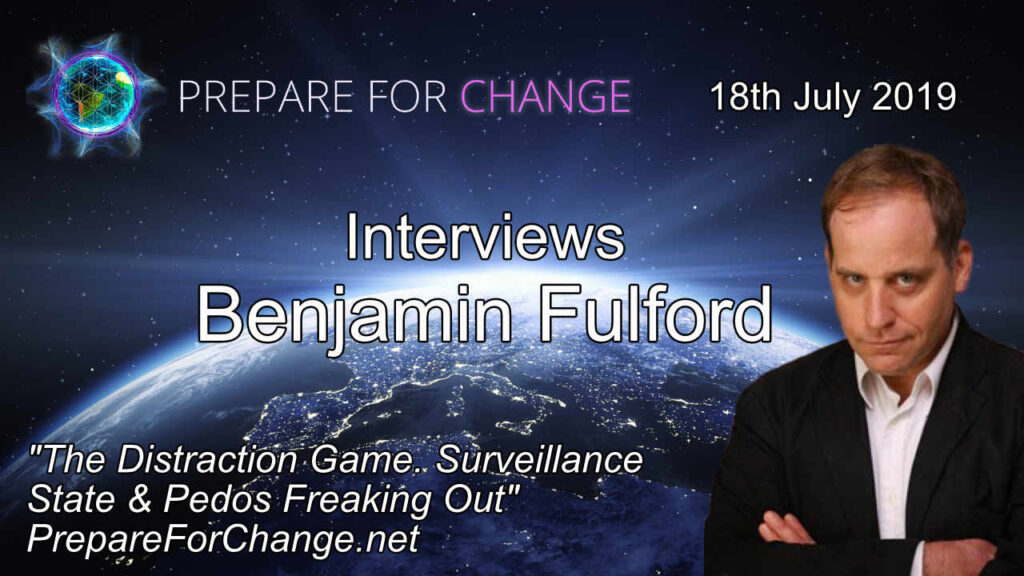 .
In this interview recorded the 18

th

 July 2019 we discuss such topics as the French / British Rothschilds, Korea unification, Iran and Turkey with some history of the area. Finally, Benjamin suggests the Air Force should hide anything they don't want shown and let the 1.5 million public enter and photograph Area 51. We also cover the distraction that is the happening in politics and how we need a new system with new people who are trustworthy and competent instead of puppets reading from scripts.
Our interview series will continue after Benjamin's summer break, so expect to see new releases with Benjamin come September 2019. If matters happening in the background at the highest levels go smoothly, then we might be expecting big announcements and changes this coming fall.
The old system IS collapsing and we're seeing the death throes of the old guard. Until we're finally fully liberated, we must keep applying pressure to the old system.
For previous releases in this long-running series of interviews:
Let's take our cue from Benjamin Fulford and turn our world into a wonderful place!
As Benjamin says, don't just sit on the sidelines, pick up the phone and call your elected officials and respectfully demand answers to these gross atrocities that have plagued our way of life for far too long. The stronger our collective voice, the quicker we affect change.
Please consider a donation
We are an all-volunteer organization. We do set aside a little money to support our website, but nearly all of your donations to PrepareForChange.net support about 460 children in an orphanage we funded in Malawi, Africa.
Think about donating to these children, who have lost their parents. You can donate here.
As always try to raise your vibration and remain loving to one another, we're all one, and we're all going to bring about a new world!

.
---
Archives:
---
No religious or political creed is advocated here.
Organised religion is unnecessary to spirituality.
Excellent teachings of the masters have been contaminated by the dogmatic control of these religions.
Discernment yes; judgement does not.
If you use discernment you are free to research with an open mind. 
With discernment it is possible to reach the spirit of the letter of any writing and it is also much easier to listen to the voice of the soul that comes from the heart.
Individually

 you can be helped to find your Truth that is different of everyone. 

Please respect all credits.
Discernment

 is recommended.
All articles are of the respective authors and/or publishers responsibility.